Chosen
on
April 18, 2016
at
3:01 am
BIG ANNOUNCEMENT THIS WEEK!!
If you like Epic Odyssey and want to see more frequent updates, shiny world-building information and more, guess what?
The Epic Odyssey of Thomas McLean now has a Patreon!!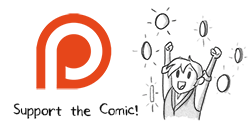 Patreon is an online donor system where, if you like the comic, you can pledge a little money to support my work. There are several options for donors, and each tier nets you special, Patreon-only gooides (like maps, write-ups on the world's cosmology, gag comics, sketches and more). The first goal at $50 a month will get you pages EVERY week instead of every other week… and eventually, if I get enough support, there will be ANIMATED CUT SCENES (I am, after all, an animator ;) )
Click the banner to donate, and thank you for reading!